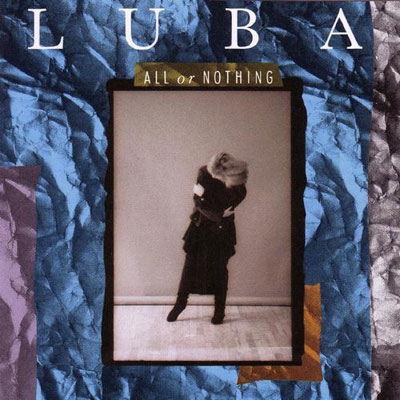 All Or Nothing
A-Side
01) "Wild Heart" – 4:45 "On My Way" – 3:58
02) "Giving Away a Miracle" – 4:41
03) "No More Words" – 4:56
04) "As Good As It Gets" - 4:22
05) "Too Much of a Good Thing" - 5:03
B-Side

06) "Little Salvation" - 3:30
07) "In Trouble Again" - 4:04
08) "Milena" - 5:16
09) "Promise Me Anything" - 4:02
10) "Bringing It All Back Home" - 5:09
Released: 1989 - C2-93176
Length: 49:46
Label: Capitol-EMI of Canada
Producers: Joe Chiccarelli and Jimmy Vivino except "Wild Heart" produced by Mike Campbell
Luba—vocals, acoustic guitar
Jeff Smallwood—guitar, mandolin, pedal steel, five string banjo, background vocals
Michel Corrivo—organ, piano, Wurlitzer, harmonium, synthesizers, background vocals
Pete Marunzak—drums, background vocals
Mike Bell—additional bass "On My Way"
Mike Campbell—guitar, bass, keyboards and mandolin on "Wild Heart"
Mickey Curry—drums "Giving Away a Miracle"
Seth Glassman—bass
Larry Hughes—background vocals
Frank Pagano—percussion
Steve Reid—percussion
Paul Shaffer—piano solo "As Good As It Gets"
Dorion Sherwood—background vocals
Bette Sussman—additional keyboards "No More Words"
Tom Torre—fiddle "Wild Heart"
Jimmy Vivino—rhythm guitar "In Trouble Again"; acoustic guitar "A Little Salvation"; slide guitar "On My Way"; background vocals
Peter White—classical guitar "Milena"
Luba's third full length studio release achieves platinum status with the hit singles such as "Giving Away a Miracle," "Little Salvation" and "No More Words". "Wild Heart" is produced by Tom Petty & The Heartbreakers guitarist Mike Campbell. Paul Shaffer from the Late Show with David Letterman joins Luba on "As Good As It Gets". This is Luba's last album with Capitol Record, she is released from her contract and another decade would pass before releasing any new music.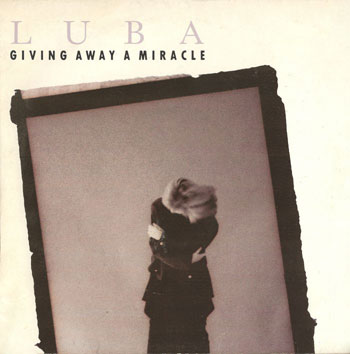 Singles
1989 Giving Away A Miracle(Capitol-EMI) B-73099
1990 No More Words (Capitol-EMI)
1990 Little Salvation (Capitol-EMI)