As we enter 2020 here are my top 20 albums of the decade 2010-2019. It took a while to compile and I'm sure I missed a few great albums. I put them in numerical order but they aren't written in stone and can change depending on my mood, is one album or type of music better then another? I was surprised at how man were from the last few years as opposed to the beginning of the decade. To my music loving fans out there what are your favorite albums of the last ten years?

My favorite albums of 2019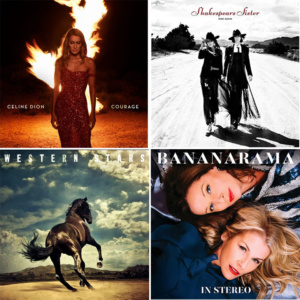 Every year I would compile my top ten favorite albums, year by year it's become more difficult as the music scene changes to sounds and productions that just don't ring with me, frankly I find it hard finding ten new albums that I love. 2019 brought a few surprises. Shakespears Sister comprising of Siobhan Fahey and Marcella Detroit were one of the most intriguing bands of the late 80's and early 90's. After 27 year the girls reunite with a Greatest Hits package, a UK tour and a five song EP of new songs called "Ride Again". The album picks up right where they left off in 1992 with their opus "Hormonally Yours". "Ride Again" is a sly nostalgic return to greatness with touches of old school Motown and soul but ever so modern and timeless, check out "All The Queen's Horses" and the Roy Orbison channelled "When She Finds You". Siobhan's ex bandmates from Bananarama, Sara Dallin and Keren Woodward put out their own effort. The dance-tastic album "In Stereo" written and co-produced by Ian Masterson does what the Nana's do best, burn up the dancefloor with pop gems, best tracks include "Tonight", lead single "Stuff Like That" and the Sugababes penned song "In Stereo". "Courage" is more than just a statement by Diva Celine Dion, after a few mediocre years this project is her best release since the early 2000's. The album is her most current sounding piece; the 20 song deluxe edition is a bit much but the cut down 16 track regular CD is near perfect. I'm convinced had these songs been sung by a much younger artist they'd be hits all over radio. Songs to check out, the beautiful Skylar Grey penned "Falling In Love Again", "Nobody's" Watching, "Imperfections", the title track, and the haunting "For The Lover That I Lost" co-written by Sam Smith. You can always depend on good ol' Bruce Springsteen, even though the E Street Band is not along for this ride "Western Stars" delivers a mix of rock, country and class, check out "Tucson Train", "The Wayfarer", and the title cut.