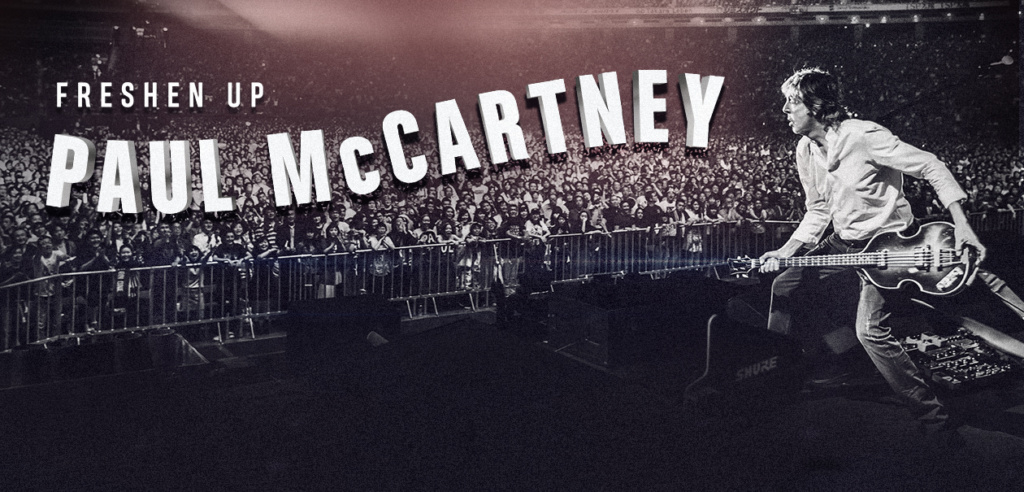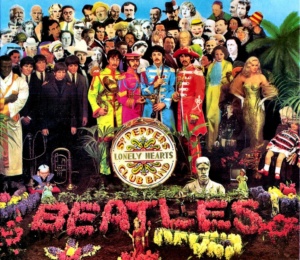 I never experienced the phenomenon or the hysteria. I was born the year Sgt. Peppers came out, but I knew growing up the importance of the Beatles in the history of pop music. How did I become aware of this "old group"? You would think it would be easier to listen to and find music in the modern age of streaming, YouTube and downloading, but back in the day of vinyl and radio plays you could hear all sorts of genres, styles from oldies to new releases. In the late 70's and early 80's there seemed to be more of an importance placed on pop music, song writing, chart placements and album production. Nowadays, it all style, presence and look, everything is rehearsed, prepared, the music in many cases is but an afterthought to sell tickets, perfume or becoming an influencer. Music is just something you stream or don't pay for, why should you? It's no longer the center of a rock or pop star's life.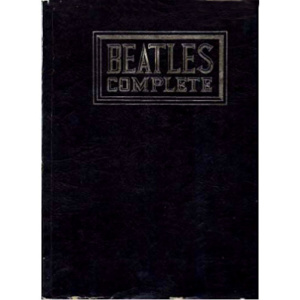 Some of my first memories of the Beatles were through my brother's friend Victor. My brother was 8 years older than me, Victor was somewhere in between us, he had three brothers and they all owned an incredible collection of vinyl including the entire Beatles catalog. I spent my summers as a kid at my mother cottage in the Laurentien Mountains just outside of Montreal. Victor played guitar and would take out his Beatles Guitar book and play for me, I still remember the black cover book with just the words "Beatles Complete" written on it. I sometimes wonder if this was the first time I heard some of those lesser known album tracks. I remember memorising the lyrics and trying to (horribly) sing along with him. I had my own ghetto blaster/cassette deck and Victor would often make me mix tapes of songs I wanted, he would also throw in some recent music he liked including Paul McCartney. I distinctly remember one tape had "Goodnight Tonight" and "Daytime Nighttime Suffering", those along with the huge 1980 #1 hit "Coming Up" were probably the first McCartney solo songs I knew, I still love them all, a shame they were not on the concert set list.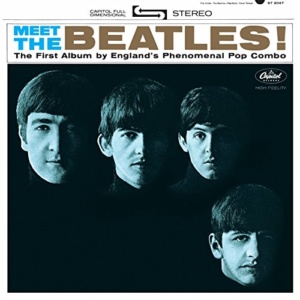 In 1980 I made $265 at my Bar Mitzvah, that's the party where you supposedly become a man and people give you money. Growing up without a dad my mom struggled and that amount of money for me was huge. I knew right away what I wanted to invest it in, a full stereo system. My uncle was a top salesman for Lloyd's electronic and I asked him for a tuner, a belt drive record player, two speakers and a cassette deck to make my own mix tapes. I had just enough money to buy the whole system. I remember being so proud to be able to buy this myself. My mom went record shopping afterwards and asked what record I wanted, I was a huge BeeGee's fan, I remember asking for the "BeeGees Greatest" double vinyl and painstakingly describing the logo on the cover so she would get the right record. She returned with not one but three records the other two being John Lennon's "Double Fantasy", and the classic "Meet The Beatles", which I wore out, for me it the beginning of a "Pop Music" history lesson.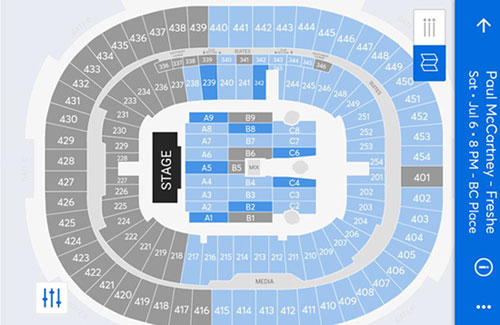 From then on music was my passion, I moved on from the Beatles to the new wave and dance of the 1980's and the explosion of new sounds and video's on MTV and Much Music. As vinyl faded away I started collecting The Beatles entire discography on CD. I started attending concerts in 1984; I kept going and never looked back. I'm not sure why I never saw McCartney until recently perhaps he didn't tour much in my hometown or the opportunity didn't arise. When I heard he was coming this July to Vancouver I knew it was now or never. I didn't think there would be a chance of getting a ticket but Ticketmaster announced a special lottery to detract bots and scalpers. They would send registered fans a special code the night before, to log in the day of the fan pre -sale. I tried for fun, not having any expectations, besides there are no more line ups at the tickets booth, it's now all virtual. When I logged on there were 1000 people online in queue, I kept checking periodically as it went down to 100…75…. then I got in. Best ticket was the floor of BC Stadium section A9 all the way on the side but row 3? I later checked and tickets next to me in a section over and even higher up in the stands were double or triple the price. Could this incredible ticket be true?
The Concert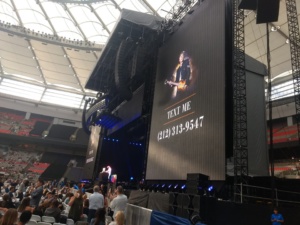 Before I get into the absolutely incredible show, let's talk about my ticket. I thought my 3rd row tickets was the Holy Grail, but I soon realized why there was three empty seats next to me. Paul's stage was like a box, enclosed with two huge screens upfront on either side. When he was playing guitar or base at the front of the stage I could see him, but once he moved to the back of the stage on the black piano to sing his iconic hits like "Let It Be" and "Live Or Let Die", I couldn't see him at all, in fact I never really saw the drummer or keyboardist except on screen. Ticketmaster should not be selling tickets at that far of an angle or they should at least mention "obstructed view". There could have been an easy fix had Paul's stage been opened with no walls and the screens at the back, why not have this set up?
At 77 years old, Paul does a 5-10 minutes shy of a 3 hour show, 38 songs and he never sweats or gets tired. Despite some saying his vocals are diminished I thought he sounded great, and was never out of breath. Unlike most concerts I attend I decided to not peak at the set list, besides I know all the Beatles songs (or so I thought) and the Hits from Wings. I was on a forum recently where McCartney fans were moaning that Paul only does the same hit songs in concert over and over, that he never deviates or never does any recent material or deep cuts. How surprised was I in the first half of the show, I was unaware of at least 8 songs. The first was after the opener "Hard Days Night", although a hit I was unfamiliar with "Junior's Farm". He also sang "Nineteen Hundred and Eighty-Five" from the "Band On The Run" album and the lesser known single "Letting Go", as a beautiful tribute to Linda. The biggest surprise came with the Quarrymen song "In Spite of All the Danger", the group that Paul and John belonged to before the Beatles. Other oddities including "Quennie Eye from his previous studio effort in 2013, "My Valentine" for his recent wife Nancy, and "Dance Tonight" from his 2007 album "Memory Almost Full". Three new songs were included from his recent fantastic album "Egypt Station" including "Who Cares" a favorite of mine that Paul wrote about the uprising of bullying. Even some of the Beatles choices seem a bit of an oddity, including "I Got A Feeling" from the "Let It Be" album, and "For The Benefit Of Mr. Kite", not the song I would have chosen from Sgt. Peppers.
One of the most poignant moments of the evening was when the front of the stage started moving upwards, lifting Paul to the sky of the Stadium as he was playing "Blackbird". Paul explained he wrote the song when the Beatles toured the US after they witnessed the segregation of the Deep South. The stage was surrounded with a screen that lit up like a starry night, it was subtle but beautiful. He then went into "Here And Today" from the "Tug Of War" album, it was the first song he wrote for John after he passed. My favorite section was the back to back "Band on the Run" and "Back In The U.S.S.R." although as I looked around I seemed to be the only one dancing and rocking out. I was elated that he did "Eleanor Rigby", while it did sound different with no string section Paul Wickens did a fine job replicating them on the keyboards. I came close to tearing up a few times but the fact I could not see him during "Let It Be" annoyed me a bit. I don't think most were prepared for flames and fireworks during "Live And Let Die", I almost had a heart attack, you could feel the heat on your face, a shame I could only see Paul on the screen at this point. "Hey Jude" brought the house down, but wait there was the encore that took about another half hour. From "Birthday", "Sgt. Pepper Lonely Hearts Club Band (Reprise)", "Helter Skelter" and the incredible "Abbey Road" medley of "Golden Slumber's", Carry That Weight and "The End". My few disappointments in the set list were not hearing "Penny Lane", which is at the top of my favorite Beatles tunes and "Day Tripper".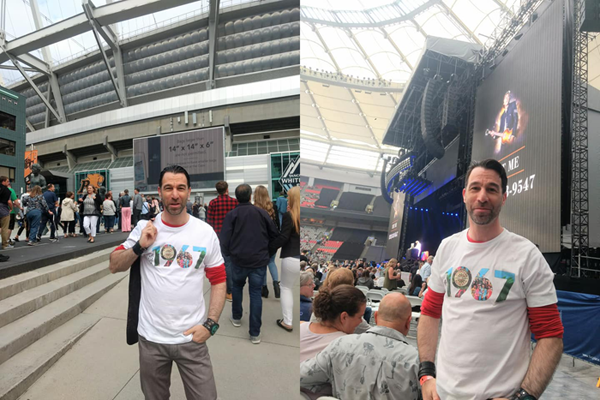 Funny how some trends do a 360, by 1990 you could not find one piece of new vinyl in the shops, now I'm collecting it again, old and new. I'll never get to see the Beatles but this past Saturday I got to go back in time and glimpse into a little piece of history and witness one of pop music's greatest songwriters, let it be indeed.
The Set List
1. A Hard Day's Night
2. Junior's Farm
3. All My Loving
4. Letting Go
5. Who Cares
6. Got to Get You Into My Life
7. Come On to Me
8. Let Me Roll It
9. I've Got a Feeling
10. Let 'Em In
11. My Valentine
12. Nineteen Hundred and Eighty-Five
13. Maybe I'm Amazed
14. I've Just Seen a Face
15. In Spite of All the Danger
16. From Me to You
17. Dance Tonight
18. Love Me Do
19. Blackbird
20. Here Today
21. Queenie Eye
22. Lady Madonna
23. Eleanor Rigby
24. Fuh You
25. Being for the Benefit of Mr. Kite!
26. Something
27. Ob-La-Di, Ob-La-Da
28. Band on the Run
29. Back in the U.S.S.R.
30. Let It Be
31. Live and Let Die
32. Hey Jude
Encore
33. Birthday
34. Sgt. Pepper's Lonely Hearts Club Band (Reprise)
35. Helter Skelter
36. Golden Slumbers
37. Carry That Weight
38. The End