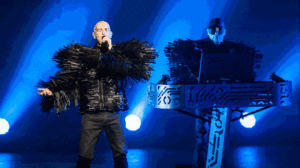 Two albums in less than a year, a world tour and the "boys" are still going strong. At 8:10 the show opened up with a shear curtain covering the theater stage, you could see Neil and Chris' outline over flashing graphic images like out a video game with rushing tunnels transporting us to another dimension, all to the the sound of their new album opener and dance club banger "Axis". The curtain stayed up for a mash up of "One More Chance" from their first LP with "A Face Like That" from the underrated "Elysium" project, their last for Parlophone records. The projection screen was well done but the crowd was happy when the curtain fell to the sounds of "Let's Make Lots of Money…" from then on everybody stood up and never sat down.
The Boys have a large repertoire to choose from, this show could have easily been a greatest hits tour, while many hits were played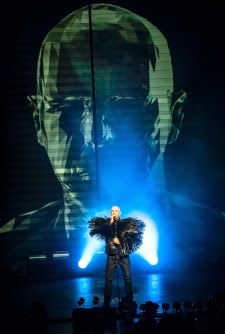 it's obvious the Boys are doing it for the die hard fans, many cuts from the two new albums were played along with some lesser known hits like "Miracles", "Rent", the B-side "I Get Excited", and their glorious dance version of Bernstein and Sondheim's "Somewhere". I have to admit a few of these songs seemed to go over the heads of the audience which to my surprise was a mixed bag of young/old straight and gay. While some might have been lost to the unknown tunes, the incredible laser show kept most of the audience mesmerized, one thing you are never bored at a Pet Shop Boys concert. They had two dancers which were OK but didn't seem to always dance in unison. Tennant who almost had as many exotic wardrobe changes as Cher (a rubber jacket made out entirely of straws and a metal bulls head hat covering his face) seemed in great form although he sounded a bit hoarse at the beginning of the show, his voice sounded better on the newer tracks as oppose to songs like "West End Girls". "I Wouldn't Normally Do This Kind of Thing" preceded by the "Rite of Spring" was my favorite highlight but the winner of the night artistically was "Love Etc." with both Neil and Chris strapped to vertical beds while images of moving bodies where projected below their heads.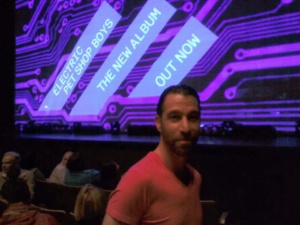 Neil who usually seems stiff in concert finally seemed to loosen up at the end with "It's A Sin", and then let the audience sing almost the entire version of "Domino Dancing" but he came right back with" I think you might know this one" before going into the fan favorite cover of "Always on my Mind", and the encore "Go West". The show ended with the appropriate "Electric" LP album closer "Vocal" Neil sings: "I like the people, I like the song, this is my kind of music, they play it all night long, I like the singer, he's lonely and strange, every track has a vocal…"
…how true.
Setlist
1. Axis
2. One More Chance / A Face Like That
3. Opportunities (Let's Make Lots of Money)
4. Memory Of The Future
5. Fugitive
6. Integral
7. I Wouldn't Normally Do This Kind of Thing
8. Suburbia
9. I'm Not Scared
10. Fluorescent
11. West End Girls
12. Somewhere
13. Leaving
14. Thursday
15. Love Etc.
16. I Get Excited (You Get Excited Too)
17. Rent
18. Miracles
19. It's a Sin
20. Domino Dancing
21. Always on My Mind
Encore:
22. Go West
23. Vocal