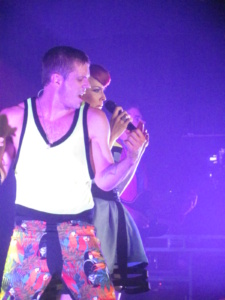 Vancouver or "Vagina" as Jake calls it, (it's his pet name for the city) had a magical hour and a half as the Scissor Sisters rocked, danced and poured their heart on stage, from the opening fab "Any Which Way" to the closing "Music is The Victim", Jake and Anna gave it their all, by the middle of the show they were sweating buckets but looked like they were having the time of their life and so was the audience. Because of their style of disco glam and retro music we often forget what a great rock band they are, from Babbydaddy on the keys and bass to the Del Marquis who rocked his socks off with his guitar work on songs like Ms. Matronic's "Kiss You Off". They did a wonderful job of alternating with Jake and Ana taking turns on the vocals, I love how Jake joins the back up singers when Ana is on lead. Speaking of, those back up girls were fabulous, incredible voices that complemented but didn't overtake the lead singers.
My only is complaint is that the music seemed to drown out Jake wonderful falsetto vocals, it often seemed too loud or distorted to the point where I could not hear the words they were singing, for example I could not make out Ana's part on "Any Which Way" which is a shame, it's hilarious, one of my favorite tracks "Invisible Light" did not sound good at all. I really wish they would play venues with better sound. For me it was OK since I know their songs but for my partner and most of the crowd it was their first time seeing the Sisters and some might not be as familiar.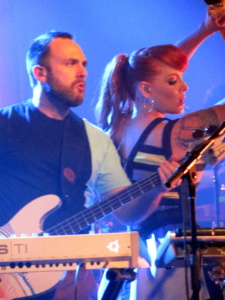 I must admit I did not like "Let's Have A Kiki" when I first heard the new album, but hearing it live was absolutely fabulous, the crowd went wild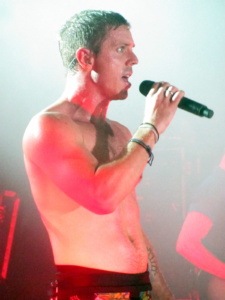 when it came on like it was one of their biggest hits, the whole vibe and choreography was superb. The few ballads like "Inevitable", "Mary", and "The Year Of Living Dangerously" gave the group time to breathe and nicely offset all the other high energy numbers Like "I Don't Feel Like Dancin'", "Take Your Mama", "Comfortably Numb", and their hot new number "Only The Horses".
The Sisters have a way of making you feel like you are at a private concert. They love to banter with the audience and they notice us, even describing outfits and pointing out members of the audience which they noticed throughout the evening. If you've never caught this band before find them on tour you won't be disappointed.
Setlist
1. Any Which Way
2. Keep Your Shoes On
3. Baby Come Home
4. The Skins
5. Kiss You Off
6. Inevitable
7. Take Your Mama
8. Year of Living Dangerously
9. Let's Have a Kiki
10. Comfortably Numb
11. Invisible Light
12. Shady Love
13. Skin This Cat
14. Mary
15. I Don't Feel Like Dancin'
Encore
16. Only the Horses
17. Music Is the Victim