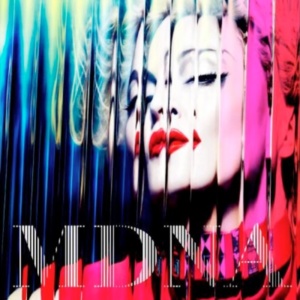 Madonna was never a poet but the lyrics on this album make her other efforts "Like A Prayer" and "Ray Of Light" sound like Shakespeare, but this is Madonna and it's all about the dance. Gone is the R&B Timbaland beats, replaced by the swirling layers of electronic masters William Orbit (Ray Of Light), and Benni Benassi who opens the album with "Girl Gone Wild", a nice little club song that sound very Madonna by numbers, if only the refrain wasn't so awkward sounding. I was excited when I first heard that Mika was writing a song for the album, but he is only one of 8 other songwriters on "Gang Bang", not sure why this is a fan favourite, I can't see it being a single with the lyrics "Bang Bang shot my lover in the head", the best part is the long outro with Madonna going "Drive Bitch" which would have to be edited for radio format. The next two tracks are my favourite and strongest on the album, the multi layered dancefloor "I'm Addicted", Benassi outdoes himself on this track where we never want the song to end. Then there's the Martin Solveig produced, simple but pop-tastic "Turn Up The Radio", both could be potential singles. Despite being the lead single "Give Me All Your Luvin'" almost sound out of place, like it doesn't belong on the album. Here's where we get into a bit of filler, Not a fan of "Some Girls" with it's odds beats, "Superstar" is cute and reminiscent of her song "Spotlight" and that era, but it's nothing special, her lyrics "You're my Super Duper Star" don't help", then there's the dire Nicki Minaj duet "I Don't Give A" enough said.
The album gets back on track with Orbits "I'm A Sinner" sounding very much like a mash up of their hits "Beautiful Stranger" and "Ray Of Light", I love the religious spoken bridge. "Love Spent" starts off a bit odd with a bango intro but it turns into a pretty downbeat track and heartfelt lyric. We've all heard her beautiful song "Masterpiece" from her film W.E. but I wasn't expecting the closing song "Falling Free" to be just as good or even better, it's reminds me of one of her best ballads "Promise To Try", these tracks show that Madonna can write a lyric and do the slow jams as well as the dance.
The deluxe version comes with a bonus disc of 4 new songs and a remix of "Give Me All Your Lovin'". Why "Beautiful Killer" was cut from the regular album version is beyond me. It's one of the better tracks and should have replaced the horrible "I Don't Give A". "I F*cked Up" and "Best Friend" are B-side material at best, but the cute piss take "B-day" is adorable, maybe it can replace the traditional one, one day.